We've been spending a lot of time indoors lately. The snow did not stop us from playing, but the bitter cold has put me in hibernation mode. A few Saturdays ago, we did make it out to the local state park. They had an eagle watching event. I did not get any pictures, but a bald eagle did fly about 100 feet in front of us. It's amazing to watch! Did you know that their wingspan is over 6 feet? Wow.
I'm a part of some online yahoo homeschool groups, and they have posted recently about wanting to do a science fair. The kids have to present their own material. It got me to thinking of what we could do, and I came up with a unit on bubbles.
One of the experiments is testing different shapes of blowers. Could we make a square bubble? Well the pictures speak for themselves.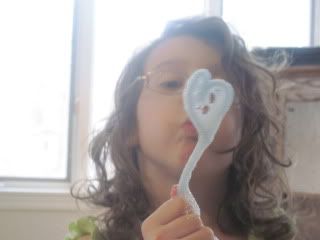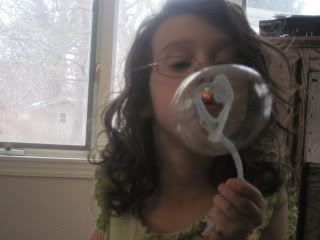 There are a few more experiments to do before we are finished, and we are having fun making a mess.
Speaking of messes, Hannah wanted to complete a birdhouse. I found an empty carton, and she went right to work. I'm not sure what kind of bird we will attract, but this will be the gaudiest birdhouse ever!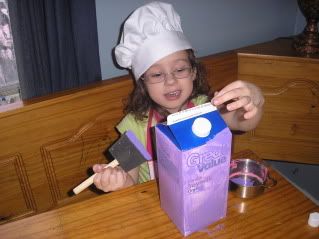 I guess overall we are surviving the winter, and having fun being together. Today it is supposed to be over 50, so we are going outside this afternoon to play. (more snow is on the way this weekend)
Amy